"What does this mean, to combine magic? Magic plus magic is still magic."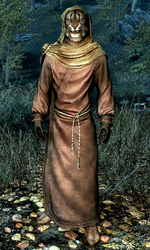 I'm sorry, but I won't be responding to any posted messages anymore.




Please list this bug on the Conjure Ash Spawn page. It's been around for about a decade!
[
edit source
]
I know you can update, "The Elder Scrolls: Skyrim: DragonBorn", page.
   I just thought I should mention a bug that is not posted under, "Conjure Ash Spawn". 

It is a bug that has not been fixed since release even with the Unofficial Patch. I had it on PC when the DLC first came out and just now on my first Xbox One X playthrough.
What happens is, if you have Neloth's assistant Telov (I believe that is his name.) become your follower possibly before but definitely after you deliver the ash spawn sample to Neloth and he says, "You can buy the Ash Spawn Spell Tome from Telov after I finish the spell.". I literally watched as the dialogue option to purchase anything other than Conjuration lessons disappear when I clicked on, "Follow me, I need your help.". The option to purchase things from him faded away and never came back. Luckily there is one other way to get the book but it's easily missed.
Please update the Conjure Ash Spawn page.
Here is the link
https://elderscrolls.fandom.com/wiki/Conjure_Ash_Spawn

10:58, August 9, 2019 (UTC)~ IceCruncher
*Disclosure: Some of the links above are affiliate links, meaning, at no additional cost to you, Fandom will earn a commission if you click through and make a purchase. Community content is available under
CC-BY-SA
unless otherwise noted.