Welcome, Loneyankee!
---

Hi Loneyankee, welcome to the Elder Scrolls Wiki! We're building a collaborative source of information for the Elder Scrolls lore, and we need your help. We saw you making some changes to our articles, and thank you for it. Hope you choose to further this project, and that we'll see you around in the future. If you choose to stay, here are some links to help you out: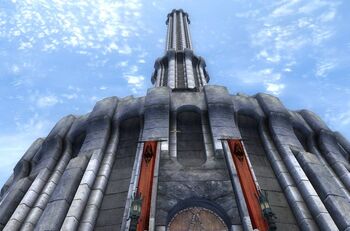 Internal pages:
External Wikipedia pages:
Remember that you should always sign your comments on talk and vote pages using four tildes, like this: ~~~~.
I hope you enjoy editing here and being a Elderscrollian! If you have any questions, see the help pages, add a question to the Forum, or ask one for our administrators or mentors.
Okay - I have had a look at the edit in question. I believe that it was this one here to which you are referring [1], where he reverted your edit. Having a look at the page history - I can understand why he reverted it. In short terms - your edit was a bugged edit. Unforunately, this has been happening sometimes across wikia - its a problem side-wide, in other words. I do not believe that his intention was to cause offense - but rather - to undo a bug in the wiki's programming that ballooned out the page. That is my opinion after a quick look at the problem - i will have another look at it shortly, after speaking with a few other people on here and getting their opinion on the matter. I honestly believe it had nothing to do with the page itself (he probably did not even see the content that you were trying to fix - but reverting the edit was the only way (short of spending literally an hour deleting those categories) of fixing it up). Timeoin•Say G'Day•View my work 10:16, February 22, 2012 (UTC)
Beverages
Edit
These beverage articles simply do not need those extra spaces, nor are they long enough to deserve multiple links to the same page. See TESWiki:OVERLINK. --— Deyvid Petteys (bother \ stalk) 23:44, February 23, 2012 (UTC)
The attention span of other readers is no excuse for ignoring established style. Please do not change the pages further. There is no need to add multiple spaces to articles either. The current format is standard for all articles on the wiki. Also, please be aware that Category:Potions and Category:Skyrim: Potions are automatically added through the template. So, please don't add extras.--—

Deyvid Petteys

(bother \ stalk) 00:20, February 24, 2012 (UTC)
Edit conflict
Edit
While the bullet points you have pointed to are not specific style rules, you did fail to bring up this part, which is the crux of what I was trying to convey. Perhaps that was faulty communication on my part. Here it is:
Generally, a link should appear only once in an article, but if helpful for readers, links may be repeated in infoboxes, tables, image captions, footnotes, and at the first occurrence after the lead.
We want to avoid adding too many links to the same page in an article. We like to link to an article once in the infobox (if applicable) and once in the article. If the article is exceptionally length, for instance, six or seven headers, it might be appropriate to link to the same page again halfway down the page. I realize some pages violate this; this is because, as a wiki, we are currently understaffed (something we are working on). This makes it difficult to catch and correct all edits made to the wiki, including our own personal projects. I hope these points are lurid to you. In the beverage articles we edited conflictingly, there was simply no need to link to Talen-Jei twice in such a small article.
That said, I cannot tell you why Wikia's editors aren't behaving properly. I was wrong to accuse you of adding extra spaces without testing the anomaly myself. Another editor helped me do this, and together, we discovered that spaces are added below each header only in the visual editor. In source mode, this error failed to occur at all. I'm sure if its your browser or another error that's causing the problem. I hope I adequately addressed all points to you. If you have any further questions, I'm always here. --— Deyvid Petteys (bother \ stalk) 06:19, February 24, 2012 (UTC)
I apologize if my behavior was a bit erratic during the initial edit-war. I intended to explain everything to you on your talk page, but I was a bit flustered, deciding to discuss the issue with other admins on the IRC. I typed out half of my respond to you, but during my discussion with them, became distracted and left out the most crucial part -- why I removed the duplicate link to Talen-Jei and why I thought that was redundant. Right now, TESWiki:OVERLINK soft-redirects to Wikipedia because a lot of the help pages here haven't been written. After our wiki merged with two others last spring, it's been crazy straightening everything out, we've also lost some valuable editors since then to school, parenthood, and other things. I'll probably write a clear and concise policy that better reflects our style than Wikipedia's, when I get a free moment. Right now, that's kind of my responsibility. --—

Deyvid Petteys

(bother \ stalk) 06:36, February 24, 2012 (UTC)
*Disclosure: Some of the links above are affiliate links, meaning, at no additional cost to you, Fandom will earn a commission if you click through and make a purchase. Community content is available under
CC-BY-SA
unless otherwise noted.