Welcome, Wolfishtail!

----
Hi Wolfishtail, welcome to the Elder Scrolls Wiki! We're building a collaborative source of information for the Elder Scrolls, and we need your help. We saw you making some changes to our articles, and thank you for it. Hope you choose to further this project, and that we'll see you around in the future. If you choose to stay, here are some links to help you out: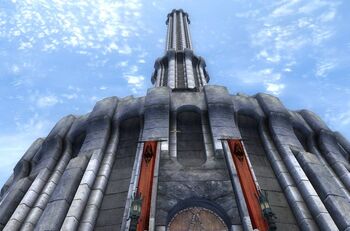 Internal pages:
External Wikipedia pages:
Remember that you should always sign your comments on talk and vote pages using four tildes, like this: ~~~~.
I hope you enjoy editing here and being a Elderscrollian! If you have any questions, see the help pages, add a question to the Forum, or ask one for our administrators or mentors.
Please do not re-add those edits I removed from Sload. They were plagiarized from UESP.net. This is a serious offense on the wiki. We do not tolerate the inclusion of unoriginal text into articles. Please do not add it again. --—Deyvid Petteys (bother \ stalk) 16:04, August 23, 2012 (UTC)
Sorry i didnt realise they were from there Wolfishtail (talk) 16:11, August 23, 2012 (UTC)
It's okay. Just try to be more cautious next time. :) --—

Deyvid Petteys

(bother \ stalk) 16:20, August 23, 2012 (UTC)
Plagiarism
Edit
Hey Wolf, the stuff you just added to Nord is almost verbatum for what Jimee just pulled down. Its taken from the UESP. So, its probably best if you pull it back down....Croaker227 (talk) 14:12, August 24, 2012 (UTC)
i re-wrote it it is know different from the ussp page Wolfishtail (talk) 14:14, August 24, 2012 (UTC)
Hi there. If you are going to be working on the Nord article, can I please ask you to add inline references per TES: CITE policy. It will make it much easier if it is done now rather than later. Thanks.
Jimeee (talk) 14:45, August 24, 2012 (UTC)
Second Era
Edit
Any suggestions on where to find info on it, pertaining to the Nords? I know it heavily involved Tiber Septim, but I cant find references....Croaker227 (talk) 16:48, August 24, 2012 (UTC)
i think you can use these books, i will try to find some more as well:
Wolfishtail (talk) 16:56, August 24, 2012 (UTC)
I took the material from the books, which are canon, and rewrote it. Added the references too. So it shouldn't count as plagiarism. Idk why it got reverted Croaker227 (talk) 17:44, August 24, 2012 (UTC)
I was cofused about that too but of well, you want to do the thrid era? i will start finding references for the other parts of the page Wolfishtail (talk) 17:51, August 24, 2012 (UTC)
Yea I'll take it, just may take a lil longer. Busy day Croaker227 (talk) 17:54, August 24, 2012 (UTC)
Beastfolk image
Edit
Thanks for spending the time to expand Beastfolk. Please be aware that the image you uploaded to replace the one currently in the article violates our media policy, as it comes from a non-canonical source, i.e. a mod. Images of mods may only be used on articles in the mod namespace. For now, I've replaced the image with one from the Pocket Guides, as is standard for articles concerning race. --—Deyvid Petteys (bother \ stalk) 22:04, August 27, 2012 (UTC)
Civil War Mod
Edit
It is me, S.T., just wanted to inform you that I changed my user name.DisjointWinter (talk) 21:24, May 22, 2013 (UTC)
Yep, that is me. DisjointWinter (talk) 23:25, May 25, 2013 (UTC)
Removed category
Edit
Hi Wolfishtail. The category you made 'Criminal Organisations' is not an agreed upon category. We also use American English on the wiki, so the category naming convention does not adhere to our policy. The category has since been removed from all pages. Please, in the future, start a discussion about new categories you think should be added first before adding them to many pages. Thanks. —TombRaiser SPEAK! 17:35, May 24, 2013 (UTC)
RE: Skyrim page
Edit
Which Skyrim page are you referring to? The one about the game or the location? Typically pages are fully protected due to massively undesirable edits, their proneness to vandalism, or high traffic. After you have figured out which Skyrim page needs to be edited, leave a detailed message of your recommended revisions or rewrite the entire article on your own sandbox, the show it to an admin. As of right now, I'm not clear on what changes you wish to see in the article. I may be able to change them for you. Since both of the articles I mentioned are very popular and experience tons of vandalism, I am not going to unlock them. They will get vandalized and their current state ruined. Hope you understand. Additionally, when making suggested revision, ensure you are following the styling format. If it is location you desire be changed, there is a specific layout all location articles must abide by. You can find that here: SF:LOCAT --—Deyvid Petteys (bother \ stalk) 21:31, June 19, 2013 (UTC)
Guard images
Edit
Hi there, just a question. Can you save those images you uploaded as png images so they are transparent like the others? It is preferred to use png format before jpg here on this Wiki. :) EbonySkyrim (talk) 16:19, July 6, 2013 (UTC)
What graphics program do you use? Where did you get these images? EbonySkyrim (talk) 16:41, July 6, 2013 (UTC)

Ok. But they are all here on this page City Guard Armor. I didn't see that until I did a search. You can just use those images of the two guards you added :) EbonySkyrim (talk) 16:51, July 6, 2013 (UTC)
How Coincidental
Edit
Hey there, this is isn't anything imprtant, but I was looking on your user page and I noticed you have an argonian character named Sissithik, as do I! Aha, that's all I wanted to say.
Olain Witguard talk The Best Assassin In All Of Mundus 17:55, July 9, 2013 (UTC)
Three-Toes
Edit
Ah! Thanks for that! I was editing pretty late at night. I didnt even see the incorrect link. So yeah - thanks for fixing it for me! Timeoin•Say G'Day•View my work 13:59, August 9, 2013 (UTC)
Grand Council
Edit
Hi, i noticed the Grand Council (passive event) page redirects to the First Council (active event).I am not familiar with the history, but it seems to me that it would be more wise to create a page for a Grand Council instead of linking that to the First Council. Please, let me know what you think.Thanks in advance.(Sky Above,Voice Within (talk) 22:29, September 27, 2013 (UTC))
Alright, but i still think that link should not be there until an article about Grand Councils is made. Unless i'm missing something. (Sky Above,Voice Within (talk) 21:42, September 27, 2013 (UTC))

Oh. Thanks for clearing it out; i won't bother you anymore :p .(Sky Above,Voice Within (talk) 22:29, September 27, 2013 (UTC))
Civil war overhaul
Edit
Hello again, LupineTail. Says on your page that you're working on a civil war overhaul mod. Are you working with ApolloDown in his Civil War Overhaul mod or it is another mod? —Sky Above,Voice Within · Show thy Voice! 14:23, November 26, 2013 (UTC)
Oh. Was kinda hoping for the other alternative; Apollo's mod sounds awesome, though i haven't tested it because it also sounds very buggy. About your wiki, i promise i'll add a crap ton of pages next week, when school time ends. —Sky Above,Voice Within · Show thy Voice! 16:52, November 26, 2013 (UTC)
Mods Wiki
Edit
Here me out. The Mods Wiki is not getting used a lot and it seems like Me and Darth Orc are the only people using it. So I was wondering if it is possible for me to take over the reigns of the Wiki. I enjoy using it and it sadens me when people aren't using it. PLease get back to me on this topic. Many thanks. Zu'u lost daal. Alduin1996 (talk) 22:10, February 15, 2014 (UTC)
Hello Wolfishtail, I was told by another admin to try to contact you yet again concerning abuse issues with an admin on the mods wiki named zippertrain85. I'm not sure if it was you or said admin that deleted my message. Please have a look at these talk pages for more information. Thanks. http://elderscrolls.wikia.com/wiki/User_talk:Digitalcleaner#Zipper_issue

. 

Digitalcleaner

 

(talk)

 07

:59, July 27, 2014 (UTC)
*Disclosure: Some of the links above are affiliate links, meaning, at no additional cost to you, Fandom will earn a commission if you click through and make a purchase. Community content is available under
CC-BY-SA
unless otherwise noted.