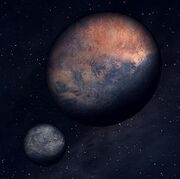 The Void Nights were a two-year period in the Fourth Era (4E 98 – 4E 100), during which the two moons of Nirn, Masser and Secunda, disappeared.[1]
Given the significance of the moons to the Khajiit in Elsweyr, there was large panic and unrest among them. The Khajiit religion is based loosely on the moons, as it determines the birth patterns of the Khajiit race. When the moons did return, the Thalmor took credit, claiming to have used previously undiscovered Dawn Magics, and the Khajiit considered them their saviors, causing a massive decline in Imperial influence in the region. A coup then overthrew the Elsweyr Confederacy, creating the two kingdoms of Anequina and Pelletine, which the Aldmeri Dominion accepted as client states.[2]
*Disclosure: Some of the links above are affiliate links, meaning, at no additional cost to you, Fandom will earn a commission if you click through and make a purchase. Community content is available under
CC-BY-SA
unless otherwise noted.