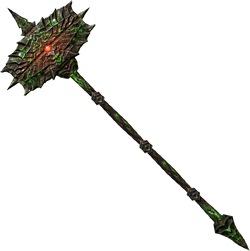 For other uses, see Warhammers.
Warhammers are two-handed weapons governed by the two-handed skill. Consisting of a dense, heavy head on the end of a long pole, warhammers deliver the most damage out of all other weapons via sweeping, crushing blows. However, their cumbersome shape and weight makes them the slowest-swinging weapons, requiring the most stamina per swing.
Perks
Skull Crusher - Attacks with warhammers ignore 25% of armor (+25% per additional rank)
Warhammers
Appearances
Community content is available under
CC-BY-SA
unless otherwise noted.