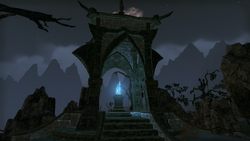 For other uses, see Wayshrines.
Wayshrines are a method of fast travel in The Elder Scrolls Online. Players can travel to a wayshrine so long as it has been visited before. Fast travel between wayshrines is free, although fast traveling to a wayshrine from anywhere will cost gold, in addition to there being limits on how often this can be done. Wayshrines also exist in dungeons where players can always resurrect in case they die.
Wayshrines do not serve the same function in Cyrodiil since players can only fast travel between keeps under their alliances's control. As of Update 13, players will also be able to directly travel to any of the purchasable houses.
The following is a selection of all the wayshrines found in different zones and provinces, ordered alphabetically.
Aldmeri Dominion
Edit
Grahtwood
Edit
Greenshade
Edit
Khenarthi's Roost
Edit
Malabal Tor
Edit
Reaper's March
Edit
Daggerfall Covenant
Edit
Alik'r Desert
Edit
Bangkorai
Edit
Glenumbra
Edit
Rivenspire
Edit
Stormhaven
Edit
Stros M'Kai
Edit
Ebonheart Pact
Edit
Bal Foyen
Edit
Bleakrock Isle
Edit
Eastmarch
Edit
Shadowfen
Edit
Southern Elsweyr
Edit
Stonefalls
Edit
Aldmeri Dominion
Daggerfall Covenant
Ebonheart Pact
Clockwork City
Edit
Coldharbour
Edit
Gold Coast
Edit
Hew's Bane
Edit
Northern Elsweyr
Edit
Summerset
Edit
Vvardenfell
Edit
Appearances
Edit
*Disclosure: Some of the links above are affiliate links, meaning, at no additional cost to you, Fandom will earn a commission if you click through and make a purchase. Community content is available under
CC-BY-SA
unless otherwise noted.