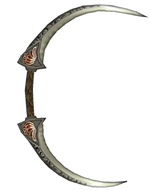 Weapons are items used to deal damage to the opponent's health in The Elder Scrolls III: Morrowind.
Each weapon type is governed by a skill, which increases the damage dealt by the corresponding weapons. There are eight different types of handheld weapons:
Axes – Axes, war axes, and battle axes are governed by the axe skill.
Blunt Weapons – Clubs, maces, warhammers, and staves are governed by the blunt weapon skill.
Bows and Arrows – short bows, long bows and arrows are governed by the marksman skill.
Crossbows and Bolts – Are governed by the marksman skill.
Long Blades – Longswords, broadswords, katanas, sabers, claymores, and dai-katanas are governed by the long blade skill.
Short Blades – Daggers, shortswords, tantos, wakizashis are governed by the short blade skill.
Spears – Spears and halberds are governed by the spear skill.
Throwing Weapons – Darts, throwing knives, and throwing stars are governed by the Marksman skill.
The following lists the different weapons by materiel used to fashion them, giving them unique statistics. They can also be classified according to the damage they deal, with the lowest being Chitin, and Daedric being the weapons dealing the highest damage (Among base weapons).
Weapons can be enchanted or acquired with specific enchantments. These enchantments will provide extra magical effects that will add themselves to the base damage of the weapon. They may also be used as common spells.
The following is the list, by type, of all weapons found in The Elder Scrolls III: Morrowind: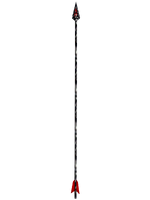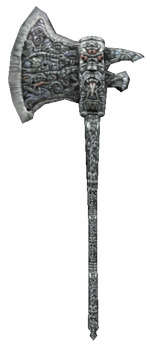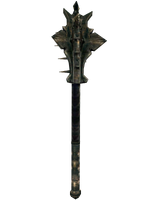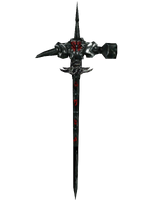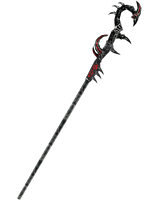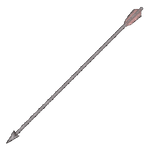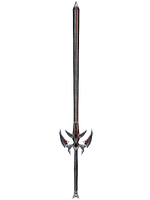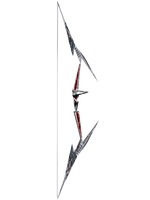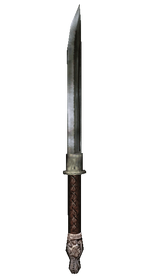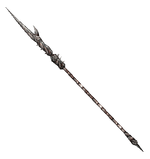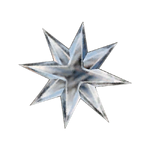 Smiths and weapons traders
[
edit
|
edit source
]
Vvardenfell has many smiths and weapon traders, where the Nerevarine may buy, sell and repair their weapons. The following is the list of weapon's traders and smiths:
Comparisons with other games
[
edit
|
edit source
]
Unlike later installments in The Elder Scrolls series, such as The Elder Scrolls V: Skyrim and its plug-ins, weapons cannot be forged with the Smithing skill.
Morrowind was the first Elder Scrolls game to employ Crossbows and their bolts. The weapon was removed from Skyrim and Oblivion, but resurfaced in Skyrim's first plug-in, Dawnguard.
Morrowind was the only title to employ the Spear skill and weapon type.
In Morrowind's successor, Oblivion, skills governing weapons, such as Short Blade and Long Blade were combined to form the Blade skill.
In Skyrim weapon-specific skills evolved to match their handedness.
For two-handed weapons, Morrowind has battle axes, warhammers, spears, staves and claymores. For one-handed weapons, Morrowind has shortswords, longswords, maces, daggers, and war axes. Bows employed various types of arrows, including Viper Arrows, which are unique to the game. Along with spears, throwing weapons, including throwing stars, throwing knives, and darts, did not return in later Elder Scrolls games.
*Disclosure: Some of the links above are affiliate links, meaning, at no additional cost to you, Fandom will earn a commission if you click through and make a purchase. Community content is available under
CC-BY-SA
unless otherwise noted.