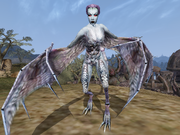 Not to be confused with Summon Winged Twilight.
The Winged Twilight is a Daedra known for serving the Daedric Prince Azura.[1]
They are messengers of Azura, Goddess of Dusk and Dawn. Winged Twilight resemble the feral harpies of the West, though the feminine aspects of the winged twilights are more ravishing, and their long, sharp, hooked tails are immeasurably more deadly.[2]
Appearances
Edit
References