For other uses, see Wood Cutter.
Woodcutting is a side-job performed in several villages and cities around Skyrim. A Woodcutter's Axe must be in the inventory in order to cut wood at a chopping block.
Each chop produces 2 firewood at no true cost to the Dragonborn, other than the need to have a woodcutter's axe in their inventory. Each chop is estimated to take 10 seconds, and the Dragonborn stops working after 3 chops, estimating 6 chops in a minute, 12 pieces of firewood in that minute, and roughly 720 in an hour. An hour out-of-game is estimated to be 24 hours in-game (2.5 minutes = 1 hour). This means in an hour, the Dragonborn can earn 3600

at no cost but the time it takes.
General goods merchants purchase firewood for less

than millers, but the Speech skill increases if this method is selected.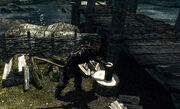 Employers for woodchoppers purchase all firewood in the Dragonborn's inventory at once for the base asking price. Each wood chop produces 2 pieces of wood, each piece of wood is worth 5 gold each, and also weighs 5 pounds each.
Followers can use the Woodchopping Block to help gather wood, for seamless chopping. Nearby followers can also hold chopped wood, lessening the chances of becoming over-encumbered.
Hard Worker
Chop wood, mine ore, and cook food
Points
10
Trophy
*Disclosure: Some of the links above are affiliate links, meaning, at no additional cost to you, Fandom will earn a commission if you click through and make a purchase. Community content is available under
CC-BY-SA
unless otherwise noted.