For other uses, see Zainab Camp.
The Zainab Camp is a location visited by the Nerevarine for the main quest in The Elder Scrolls III: Morrowind.
The camp is one of the four Ashlanders camps. It is located in the Grazelands region of Vvardenfell. Within the camp are three merchants, a skill trainer and a healer.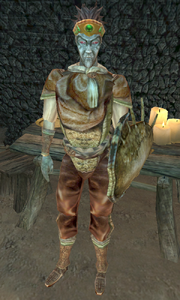 In order to complete the Fifth Trial of the Seven Visions the Nerevarine must be declared as such by the Four Ashlander Tribes.
Negotiate a deal to persuade the Zainab tribe to sell Ebony to the members of House Hlaalu.
Help Turedus Talanian learn what the Zainab tribe wants, in order to improve relations with them.
*Disclosure: Some of the links above are affiliate links, meaning, at no additional cost to you, Fandom will earn a commission if you click through and make a purchase. Community content is available under
CC-BY-SA
unless otherwise noted.