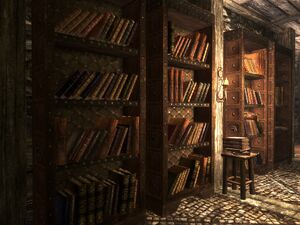 书是上古卷轴V:天际中可以获得的一种物品。
书可以在整个天际找到,它们可能会给予任务,、增加某个技能,或是记载了世界地图上的某个地点。书中有简单的故事、信、配方、笔记和日志,有些包含任务和设定的片段,帮助玩家熟悉泰姆瑞尔的文化、人民和历史。
可获得的书
编辑
以下是天际、黎明守卫、炉火和龙裔中可以找到的书的列表。本列表不包括法术书、配方、日志或信件。
标题
简介
物品ID
16 Accords of Madness, v. VI
A tale of a duel between Sheogorath and Hircine.

0001AFB2

16 Accords of Madness, v. IX
Sheogorath and Vaermina strike a bet.

0001AFB3

16 Accords of Madness, v. XII
Malacath's dealings with Sheogorath.

0001AFB1

2920, vol 01 - Morning Star
First book in a series of books recounting the events surrounding the Empire during the last year of the First Era.

0001AFD9

2920, vol 02 - Sun's Dawn
Details one of Sotha Sil's lessons, Turala's exile and Molag Bal arriving to Gilverdale, as well as Almalexia discovering the city's destruction.

0001B010

2920, vol 03 - First Seed
Details the disaster of the attempted Imperial invasion of Mournhold, 晨风 by Emperor Reman III.

0001ACE5

2920, vol 04 - Rain's Hand
Follows Sotha Sil and his initiates in their negotiation and dealings with 魔族 following the destruction of Gilverdale by Molag Bal.

0001B017

2920, vol 05 - Second Seed
Narrates attempts on the life of Emperor Reman III and Turala's birth of a daughter.

0001B025

2920, vol 06 - Mid Year
Details the events of the Battle of Ald Marak between Vivec's forces and the army of the Reman Empire.

0001AFF7

2920,卷七-日高月
开启Sacking of Black Gate和莫拉格帮开始刺杀雷曼·赛瑞迪尔三世皇帝的契约,这些事件的细节。

0001B00C

2920, vol 08 - Last Seed
Details the events that lead to Juilek Cyrodiil's assassination, as well as the treaty between Cyrodiil and Morrowind that ended the 80 year-long war.

0001B01F

2920, vol 09 - Hearth Fire
Details Empress Tavia's agony and her suicide, Potentate Versidue Shaie convincing the emperor to sentence Rijja to death and Turala and Cassyr meeting a witch of the Skeffington Coven.

0001AFE9

2920, vol 10 - Frostfall
Details Turala's life in Skeffington Coven, Cassyr arriving to Dwynnen, his encounter with Sotha Sil's ex-student and his use of Turala's wrath after the destruction of Skeffington Coven.

0001AFEA

2920, vol 11 - Sun's Dusk
Details Zuuk's meeting with the Night Mother, first signs of the Daedric attack on Mournhold, negotiations in Bodrum and an attempt of assassination of the Emperor.

0001ACE3

2920, vol 12 - Evening Star
Details Emperor Reman Cyrodiil III's death, rebuilding of Mournhold, the Potentate taking on duties of ruling the Empire and the beginning of the Second Era.

0001ACE4

A Children's Anuad
A simplified account of creation myths.

0001ACDF

A Dance in Fire, Book I
Account of Decumus Scotti's exploits during the war between Valenwood and Elsweyr.

0001AFC0

A Dance in Fire, Book II

Part two of Decumus Scotti's exploits during the war between Valenwood and Elsweyr.

0001AFDF

A Dance in Fire, Book III
Part three of Decumus Scotti's exploits during the war between Valenwood and Elsweyr.

0001AFD4

A Dance in Fire, Book IV
Part four of Decumus Scotti's exploits during the war between Valenwood and Elsweyr.

0001AFC1

A Dance in Fire, Book V
Part five of Decumus Scotti's exploits during the war between Valenwood and Elsweyr.

0001B006

A Dance in Fire, Book VI
Part six of Decumus Scotti's exploits during the war between Valenwood and Elsweyr.

0001B00D

A Dance in Fire, Book VII
Part seven of Decumus Scotti's exploits during the war between Valenwood and Elsweyr.

0001B00E

A Dream of Sovngarde
A Nord soldier's account of visiting the afterlife in a dream.

000ED02F

A Game at Dinner
An anonymous letter written by a spy.

0001AFC4

A Gentleman's Guide to Whiterun
A guide to the Nordic city of Whiterun in the Fourth Era.

000ED02E

A Hypothetical Treachery
A short play about betrayal.

0001AFEE

A Kiss, Sweet Mother
Guide to performing the Black Sacrament in order to summon the Dark Brotherhood.

000A0322

A Minor Maze
The history of Labyrinthian and its creator, Shalidor.

000F1AB3

A Tragedy in Black
A folk tale about a young boy's encounter with a Dremora.

0002F838

Adonato's Book
Version of "Olaf and the Dragon" found in Candlehearth Hall or given by Adonato Leotelli for delivery to the Bard's College. Differs from OATD in title and a few spelling differences.

000403AF

Advances in Lockpicking
A brief guidebook on lockpicking.

0001B01C

Aedra and Daedra
A brief summary of the differences between Aedra and Daedra.

0001B22C

Aevar Stone-Singer
A Skaal folk tale about a young boy's journey to return the gifts of the All-Maker from the Greedy Man.

0001ACE6

Ahzirr Traajijazeri
The public manifesto of the Khajiit organization Renrijra Krin.

0001AFF3

Alduin is Real
A poorly-written book on the subject of Alduin's existence.

000EA5B0

Amongst the Draugr
Bernadette Bandian's study into the behavior of the Draugr.

000ED03F

An Accounting of the Scrolls
An attempted study into the number of Elder Scrolls that exist.

000ED03A

An Explorer's Guide to Skyrim
A brief overview of some cities in Skyrim for tourists to visit.

00083B38

Ancestors and the Dunmer
An overview of Dunmer ancestor worship and afterlife.

0001B22D

Annals of the Dragonguard
A journal written by a member of the ancient Dragonguard.

0003636A

Antecedents of Dwemer Law
The customs and laws of the Dwemer.

0001B22F

Arcana Restored
A guide to restoring enchanted items.

0001ACFE

The Argonian Account, Book I
Account of Decumus Scotti's first entering Black Marsh. The first part of his adventures there.

0001AFD7

The Argonian Account, Book II
Part two of Decumus Scotti's adventures in the Black Marsh.

0001ACE7

The Argonian Account, Book III
Part three of Decumus Scotti's adventures in the Black Marsh.

0001AFFC

The Argonian Account, Book IV
Part four of Decumus Scotti's adventures in the Black Marsh.

0001ACE8

Atlas of Dragons
A historical record of known Dragons, both living and dead.

000FF227

Ahzidal's Descent DR
A short biography about the famed Nord enchanter and Dragon Priest, Ahzidal.

xx

033bd8
Azura and the Box
Part eleven of the Ancient Tales of the Dwemer series.

0001ACE9

桑·卡托之战
桑·卡托战争的历史记录。

0001AFDC

Before the Ages of Man
A brief history of the Dawn Era and Merethic Era.

0001B012

Beggar
Part one of the fictional tale surrounding the adventures of Eslaf Erol.

0001AFD6

Beggar Prince
A fictional story of a prince who is given unusual "gifts" from Namira.

0001ACC7

Biography of Barenziah, v1
Volume one in the official biography of Queen Barenziah.

0001ACB5

Biography of Barenziah, v2
Volume two in the official biography of Queen Barenziah.

0001ACB6

Biography of Barenziah, v3
Volume three in the official biography of Queen Barenziah.

0001ACB7

Biography of the Wolf Queen
The history of Potema, The Wolf Queen of Solitude.

0001B023

Black Book: Epistolary Acumen DR
A mysterious Black Book attributed to Hermaeus Mora.

xx

016e2c
Black Book: Filament and Filigree DR
A mysterious Black Book attributed to Hermaeus Mora.

xx

01e99e
Black Book: The Hidden Twilight DR
A mysterious Black Book attributed to Hermaeus Mora.

xx

01e99f
Black Book: The Sallow Regent DR
A mysterious Black Book attributed to Hermaeus Mora.

xx

01e99d
Black Book: The Winds of Change DR
A mysterious Black Book attributed to Hermaeus Mora.

xx

01e99e
Black Book: Untold Legends DR
A mysterious Black Book attributed to Hermaeus Mora.

xx

016e2d
Black Book: Waking Dreams DR
A mysterious Black Book attributed to Hermaeus Mora.

xx

016e22
Boethiah's Glory
A short prayer to Boethiah.

0001B233

Boethiah's Proving
A cultist's account of summoning Boethiah.

00032E72

Bone, Part I DR
Part one in a tale surrounding the creation of Bonemold armor.

xx

028261
Bone, Part II DR
Part two in a tale surrounding the creation of Bonemold armor.

xx

028262
Breathing Water
A fictional tale where Tharien Winloth seeks to master water breathing.

0001B236

帝国简史,卷一
塞普汀王朝最开始的八位皇帝,从泰伯·塞普汀到金泰拉二世。

0001ACB9

帝国简史,卷二
第二卷描述了红钻石战役和之后的六位皇帝。

0001ACBA

帝国简史,卷三
第三卷描述了接下来三位皇帝的麻烦——失败的尤利尔四世、无能的塞弗勒斯二世,以及英雄的尤利尔五世。

0001ACBB

帝国简史,卷四
最后一卷描述了剩下的皇帝的故事,以及贾加·萨恩。

0001ACBC

Brothers of Darkness
黑暗兄弟会的建立与崛起。

0001ACFF

Catalogue of Armor Enchantments
A guide to various enchantments that can be bound to apparel.

0002F83B

Catalogue of Weapon Enchantments
A guide to various enchantments that can be bound to weapons.

0002F83A

Cats of Skyrim
A brief overview about the Sabrecats and Khajiit found in Skyrim.

000ED605

Chance's Folly
A fictional tale of a thief who gets more than she bargained for.

0001B237

Changed Ones DR
A tale of how Boethiah corrupted Trinimac.

xx

028263
Charwich-Koniinge Letters, v1
A series of letters between Charwich and his friend Koniinge written during their search for Azura's Star.

0001B238

Charwich-Koniinge Letters, v2
Letters between Charwich and Koniinge about their search for Azura's Star.

0001B239

Charwich-Koniinge Letters, v3
Letters between Charwich and Koniinge about their search for Azura's Star.

0001B23A

Charwich-Koniinge Letters, v4
Letters between Charwich and Koniinge about their search for Azura's Star.

0001B23B

Chaurus Pie: A Recipe
A recipe for pie, written by Windhelm resident Nils.

000ED032

Cherim's Heart
An interview with Khajiiti tapestist Cherim about his most famous work - "The Heart of Anequina."

0001AFD1

Children of the All-Maker DR
A brief study of the Skaal peoples of Solstheim in the Fourth Era.

xx

03abcc
Children of the Sky
A text detailing aspects of 诺德 culture, with a primary focus on 吐姆 and Tongues.

0001AD03

Chimarvamidium
Part six of the Ancient Tales of the Dwemer series.
0001AFF8
0001B22E
Chronicles of Nchuleft
A historical account of events surrounding the 锻莫 colony of Nchuleft.

0001B23C

Cleansing of the Fane
A fragment from a First Era chronicle surrounding the destruction of the Ayleid city of Malada.

0001AD04

Confessions of a Dunmer Skooma Eater DR
A cured Skooma addict's account of his addiction.

xx

028264
Confessions of a Khajiit Fur Trader DG
An imprisoned "fur trader" recounts his sordid history and how he became a merchant specializing in the pelts of beastfolk.

xx

016692
Consider Adoption Template:HF
A letter from Honorhall Orphanage in Riften.

xx

003f7c
Darkest Darkness
A book discussing the different varieties of Daedra and whom they serve.

0001ACC9

Daughter of the Niben
A brief history of Bravil, including the tale of its namesake Teo Bravillius Tasus.

0001AFC9

De Rerum Dirennis
Vorian Direnni writes of his lesser known family members in hopes their names won't be forgotten.

0001AFC7

阿贝那尼特的致命一击
关于达葛斯·瑟拉斯之死的诗歌,他是个强大魔族的崇拜者,宣称自己是第六家族的继承者。

0001AFDD

Death of a Wanderer
The tale of a sick and elderly Argonian explaining the intricacies of the ancient Nordic Dragon Claws.

000ED040

Deathbrand DR
A tale of the fearsome pirate king, Haknir Death-Brand.

xx

03661a
Diary of Faire Agarwen DG
A journal that recounts a harrowing and tragic tale of survival of one Snow Elf in the aftermath of the war with the Nords in the Merethic Era. Translated version of Unknown Book, Vol. III.

xx

01a3e7
Dragon Language: Myth no More
Hela Thrice-Versed recounts her travels across Skyrim in search of 龙语墙 and outlines her theories on how Dragons communicated.

000EF2C0

Dunmer of Skyrim
Dunmer immigrant Athal Sarys writes about the poor treatment of his kin in the 诺德 city of Windhelm.

000E2FC5

Dwarves, v1
Calcelmo's three-part series into the various facets of the 锻莫. The first part looks at architecture and design.

00083168

Dwarves, v2
The second part looks at weapons, armor and machines.

00083169

Dwarves, v3
The third part looks at culture and history.

0008316A

Dwemer History and Culture
An investigation into the works of Marobar Sul and their effect.

0001ACEA

探究锻莫人,卷一
瑟尔维·格尔雷恩三部分研究的第一部分,关于锻莫建筑与文明。

000E7F31

探究锻莫人,卷二
瑟尔维·格尔雷恩三部分研究的第二部分,关于锻莫建筑与文明。

000E7F33

探究锻莫人,卷三
瑟尔维·格尔雷恩三部分研究的第三部分,关于锻莫建筑与文明。

000E7F34

Effects of the Elder Scrolls
Justinius Poluhnius's study into the effects of reading an Elder Scroll.

0003010B

附魔师入门指南
冬堡学院的瑟吉奥斯·图理安努斯的附魔基础指南。

0002F837

Fall From Glory
A study into the fall of Riften's 盗贼公会 in the 第四纪元.

000ED033

Fall of the Snow Prince
An account of the Battle of the Moesring between the 阿特莫拉人s and 雪精灵, including the death of the Snow Prince.

0001ACF7

Father Of The Niben
Ancient journal translations of Topal the Pilot, the earliest known Aldmer explorer of Tamriel.

0001B008

Feyfolken, Book I
The first book of a three part tale of a great sage and his lessons for his two students, Taksim and Vonguldak.

0001ACEB

Feyfolken, Book II
The second book of a three part tale of a great sage and his lessons for his two students, Taksim and Vonguldak.

0001ACEC

Feyfolken, Book III
The third book of a three part tale of a great sage and his lessons for his two students, Taksim and Vonguldak.

0001ACED

Final Lesson
The great sage from the Feyfolken series has one last lesson to teach his students.

0001B267

Fire and Darkness
The history of the Morag Tong and its evolution into the Dark Brotherhood.

0001AFDA

Five Songs of King Wulfharth
Five songs spanning the life of King Wulfharth. Includes a controversial secret song about his involvement at Red Mountain.

0001AD05

Flight from the Thalmor
Hadrik Oaken-Heart's account of his capture and escape from the Thalmor.

000ED04E

Forge, Hammer and Anvil
Thorbald the blacksmith's notes on various smithing techniques.

000E3E69

Fragment: On Artaeum
A essay about the island of Artaeum, home of the Psijic Order.

00072841

Frontier, Conquest
A brief look at the Atmoran migration and settlement of 泰姆瑞尔 during the Merethic Era.

0001ACCB

Galerion the Mystic
A biography of Galerion the Mystic, former Psijic monk and founder of the 法师公会.

0001ACCD

Ghosts in the Storm
A trade caravaneer's account of a 伐莫 ambush a during a snow storm.

000ED031

Glories and Laments
Alexandre Hetrard's account of exploring the Ayleid Ruin of Ceyatatar.

0001AD07

泰姆瑞尔的诸神与信仰概述
关于泰姆瑞尔诸神的信仰的研究。

0001ACD5

Great Harbingers
A brief synopsis of notable Harbingers who led 战友团.

000ED047

进阶盗窃指南
各种盗窃技术的简短指南。

0002F836

Hallgerd's Tale
传奇战士Hlaalu Pasoroth和他对所穿盔甲的天生亲和力的故事。

0001AFF6

Hanging Gardens
A fragment of a guidebook covering the Hanging Gardens of Wasten Coridale.

0001AD08

Harvesting Frostbite Spider Venom
A guide about 霜噬蜘蛛 and how to harvest their 毒液.

000ED603

Heavy Armor Forging
A short guide covering how to forge various types of heavy armor.

0001AFD2

Herbalist's Guide to Skyrim
An illustrated guide of various alchemy ingredients found in Skyrim.

0001AFC8

Herbane's Bestiary: Automatons
Herbane's account of his interactions with Dwemer automatons.

000ED60C

Herbane's Bestiary: Hagravens
Herbane's account of his interactions with Hagravens.

000ED60B

Herbane's Bestiary: Ice Wraiths
Herbane's account of his interactions with Ice Wraiths.

000D6F0B

History of Raven Rock, Vol. I DR
Part one of a description of events surrounding Raven Rock.

xx

038f1b
History of Raven Rock, Vol. II DR
Part two of a description of events surrounding Raven Rock.

xx

038f1c
History of Raven Rock, Vol. III DR
Part three of a description of events surrounding Raven Rock.

xx

038f1d
Holdings of Jarl Gjalund
An ancient record of the lands under the lordship of Jarl Gjalund.

000FBA57

Horker Attacks
An account of how a hunter survived a Horker attack.

000ED604

Horror of Castle Xyr
A one act play involving House Telvanni.

0001AFEC

Ice and Chitin
A tale about how Chitin armor saved Commander Beatia and her Lieutenant from an army.

0001B001

永生之血
莫瓦斯·皮库尼与吸血鬼相遇的故事。

0001AFF1

Imperial Report on Saarthal
A report on Saarthal and the elven attack that later became known as the Night of Tears.

000EDA90

Incident at Necrom
A tale of four mercenaries and their battle with a brood of vampires.

0001B00F

Invocation of Azura
The autobiography of a high priestess of 阿祖拉, focusing on the various Daedric cults she followed throughout her life.

0001B245

Jornibret's Last Dance
A lewd song about the Queen of Rimmen and her consort.

0001B002

Journal of Mirtil Angoth DG
The journal of a survivor of the 诺德 war against the 雪精灵. This book is the translated version of Unknown Book, Vol. II.

xx

01a3e6
Killing - Before You're Killed
A short guide about various combat strategies.

000EDD35

King
Part four of the fictional tale surrounding the adventures of Eslaf Erol.

0001AFE5

King Olaf's Verse
The missing verse of a poetic edda written by Svaknir that denounces 至高王Olaf as a fraud.

000AE324

Kolb and the Dragon
A "choose your own adventure" style book about a quest to slay a dragon.

000EF53E

Lakeview Manor Charter Template:HF
A written permission to settle on a parcel of land in Falkreath Hold.

XX01579F

Last Scabbard of Akrash
A story of a slaver's daughter and her 虎人 lover.

0001AFCF

克拉特利家族传说
香丁赫尔著名的闹鬼克拉特利家族的剧本。

0001B021

Letter from the Jarl of Falkreath Template:HF
A letter with an offer for the Dragonborn to become Thane of Falkreath.

XX016130

Letter from the Steward of Falkreath Template:HF
A letter with an offer for the Dragonborn to become Thane of Falkreath.

XX0030A1

尤利尔·塞普汀七世生平
尤利尔·塞普汀七世的短篇传记。

0001ACDC

Light Armor Forging
A short guide covering how to forge various types of 轻甲.

0001AFD0

Liminal Bridges
Jargon laden guide to traveling between Mundus and 湮灭 using a sigil stone.

0001AFE8

Lives of the Saints DR
A brief overview of the major saints in the Dunmer faith.

xx

028269
Lost Legends
A collection of folk tales from Skyrim.

000ED608

Lycanthropic Legends of Skyrim
A traveler's search for information regarding the legends of werewolves and werebears.

000ED042

Mace Etiquette
A short guide about how to wield a mace in combat.

0001AFE6

Magic from the Sky
A treatise covering Ayleid Wells, Welkynd Stones and Varla Stones.

0001ACF1

Malyn Varen's Grimoire
Malyn Varen's notes about corrupting Azura's Star.

00028ADC

Mannimarco, King of Worms
A biography about Mannimarco, in the style of a poem.

0001AFC5

Markarth Home Decorating Guide
A guide to decorating Vlindrel Hall in Markarth.

000F1445

混合兵种作战策略
五年战争中虎人所使用的策略的笔记。

0001ACD1

Mysterious Akavir
A short guide about the continent and inhabitants of Akavir.

0001ACD4

Mystery of Talara, v 1
Part one in a series of books about a fictional Breton princess.

0001AFC3

Mystery of Talara, v 2
Part two of the story of Princess Talara.

0001B018

Mystery of Talara, v 3
Part three of the story of Princess Talara.

0001AFF0

Mystery of Talara, v 4
Part four of the story of Princess Talara.

0001B013

Mystery of Talara, v 5
Part five of the story of Princess Talara.

0001ACF5

Mythic Dawn Commentaries 1
First in a four part guide for new members of the Mythic Dawn.

00086EF8

Mythic Dawn Commentaries 2
Second in a four part guide for new members of the Mythic Dawn.

00086EF9

Mythic Dawn Commentaries 3
Third in a four part guide for new members of the Mythic Dawn.

00086EFA

Mythic Dawn Commentaries 4
Last book in a four part guide for new members of the Mythic Dawn.

00086EFB

Myths of Sheogorath
Various obscure tales surrounding Sheogorath.

0001ACB8

N'Gasta! Kvata! Kvakis!
An untranslated text written by a Sload necromancer.

0001AD0E

Nchunak's Fire and Faith DR
A translated account of Nchunak's travels among the Dwemer colonies, explaining the theories of Kagrenac.

xx

02826a
Nerevar at Red Mountain DR
A scholarly retelling of Ashlander traditions describing the Battle of Red Mountain.

xx

02826b
Nerevar Moon and Star
A selection from a series of monographs by various Imperial scholars on Ashlander legends surrounding Nerevar.

0001AD0D

Night of Tears
A study into the Night of Tears and the true motives of the Snow Elves.

0004D249

Night Falls on Sentinel
A story about the assassination of King Lhotun's brother.

0001AFE4

Nightingales: Fact or Fiction?
Debating whether or not Nightingales truly exist.

000ED039

Nords Arise!
A book glorifying Ulfric Stormcloak and inciting rebellion against the Empire and the Aldmeri Dominion.

000ED161

Nords of Skyrim
Overview of the Nordic people of Skyrim.

000E0D66

Notes on Dimhollow Crypt, Vol. 3 DG
A journal detailing an explorer's expedition into Dimhollow Crypt.

xx

00d070
Notes on the Lunar Forge
An unknown scholar's notes on the workings of the Lunar Forge.

00063A0F

Notes on Yngol Barrow
A journal and poem about Atmora relating to 英格尔冢.

000B6426

Ode To The Tundrastriders
关于天际的巨人的一首短诗。

000ED607

交叉匕首
裂谷城简史。

000ED035

Of Fjori and Holgeir
A short tale of two star-crossed lovers in ancient Skyrim.

000B64B1

Oghma Infinium
A powerful Daedric artifact, written by the god-scribe Xarxes using knowledge gifted by 赫麦尤斯·莫拉.

0001A332

Olaf and the Dragon
A historical look at the legend of Olaf One-Eye and Numinex.

000EB090

On Apocrypha: Boneless Limbs DR
A mysterious tome found in 异典.

xx

03a35f
On Apocrypha: Delving Pincers DR
A mysterious tome found in Apocrypha.

xx

03a360
On Apocrypha: Gnashing Blades DR
A mysterious tome found in Apocrypha.

xx

03a361
On Apocrypha: Prying Orbs DR
A mysterious tome found in Apocrypha.

xx

03a362
On Oblivion
A guide to 湮灭 and its 居民.

0001ACF3

On Stepping Lightly
An adventurer's guide to the ancient Nordic ruins of Skyrim.

000ED037

On the Great Collapse
A letter sent from Arch-Mage Deneth to the 冬堡领主 following The Great Collapse.

000EDA8E

Opusculus Lamae Bal
A tale surrounding the origins of 吸血热.

0001AF40

Orsinium and the Orcs
The story of how Orsinium was won in a duel by Gortwog gro-Nagorm.

0001AFF9

Palla, Book I
Part one of the tale of an infatuated and mistaken magician.

0001AFFE

Palla, Book II
Part two of the tale of an infatuated and mistaken magician.

0001ACF4

Pension of the Ancestor Moth
A summary of the Order of the Ancestor Moth and the duties of its novitiates.

0003010A

Physicalities of Werewolves
A scientific study into the anatomy of werewolves and werewolf transformations.

000ED041

Pirate King of the Abecean
An ode to the Dremora pirate Velehk Sain.

000E7EF0

Power of the Elements
A mysterious tome, central to learning advanced Destruction spells.

0009C8C2

Proper Lock Design
A guide to making locks, with tips to help make them more difficult for thieves to pick.

0001B01B

Purloined Shadows
The tale of how a young thief helped Emer Dareloth steal Nocturnal's Cowl.

0001B022

Racial Phylogeny
An essay by the Council of Healers of the Imperial University on the races of Tamriel, specifically focusing on interracial reproduction.

0001B015

Reality & Other Falsehoods
A brief introduction to Alteration magic.

0001AFCC

Remanada
An ancient, mythological account of events that transpired in the 第一 and 第二纪元s.

0001AD14

Report: Disaster at Ionith
An Imperial government document on the events that transpired during the Disaster of Ionith.

0001ACC6

Response to Bero's Speech
An overview of Bero's speech to the 战斗法师 which received attention in some academic circles.

0001AFED

Riften Home Decorating Guide
A guide to decorating 甜蜜湾 in 裂谷城.

000F11B7

新的威胁,卷一
来自夏暮岛的傲尔特莫难民拉森雷尔的述说,他在第四纪元早期来到赛瑞迪尔。

000ED5F4

新的威胁,卷二
傲尔特莫难民故事的第二部分。

000ED5F5

新的威胁,卷三
傲尔特莫难民故事的第三部分。

000ED5F6

新的威胁,卷四
傲尔特莫难民故事的第四部分。

000ED5F7

Rislav The Righteous
Account of Rislav Larich who was a former King of Skingrad.

0001B004

Ruins of Kemel-Ze
A detailed account of an expedition into Dwarven ruins.

0001ACDB

Rumination on the Elder Scrolls
Septimus Signus' seemingly insane ramblings about the 上古卷轴.

00032785

Sacred Witness
A chronicle surrounding various aspects of the 黑暗兄弟会's origin and deities.

0001B020

Saint Jiub's Opus DG
The completed first volume of Saint Jiub's twenty-six volume biography. It consists of the ten pages found throughout the 灵魂石冢.

xx

003f79
灰民区的灾祸
反对第四纪元居住在风舵城灰民区的暗精灵的宣传。

000ED03B

Shadowmarks
A glossary of 盗贼公会Shadowmarks.

000F84A1

Shezarr and the Divines
A treatise about 谢扎尔 and his relationship to 圣灵.

0001AF93

Short History of Morrowind
Information about the settlements of the 瓦登费尔 district.

0001B22B

Sithis
Creation myth involving Sithis and Lorkhan.

0001AFCB

Skyrim's Rule
Brief overview of Skyrim's political makeup.

000ED04C

Solitude Home Decorating Guide
The decorating guide to Proudspire Manor in Solitude.

000F1447

Song of Hrormir
Telling of a man's quest to save his brother and his dealings with Nocturnal.

0001AFDB

Song of the Alchemists
Part five of the Ancient Tales of the Dwemer series.

0001AFC6

Song of the Askelde Men
A traditional 诺德 poem about a vengeful ghost.

000E7F37

Songs of Skyrim
Collection of songs from Skyrim including Ragnar the Red, 龙裔归来 and The Age of Oppression.

000ED062

Songs of Skyrim: Revised
A revised collection of songs from Skyrim, including Tale of the Tongues.

000F11D5

归来之歌,卷二
英格尔和Ylgar的天际之旅的故事。

000ED046

归来之歌,卷七
伊斯格拉谟和五百英豪在天际的协议的故事。

000ED045

归来之歌,卷十九
风舵城的发现与建造的故事。

000ED03D

归来之歌,卷二十四
五百英豪的某些水手在泰姆瑞尔其他省份探险的故事。

000ED048

归来之歌,卷五十六
水手们被缓缓告知伊斯格拉谟的离去,如此结束了the Return年代。

000ED044

Souls, Black and White
Basics on 黑 and 白 soul gems.

0001AD0C

Sovngarde, a Reexamination
Speculative article on how to reach the Nordish afterlife Sovngarde.

000E2FC6

Spirit of Nirn
Short text on differing cultural views of Lorkhan.

0001B25A

Spirit of the Daedra
Informative view into the nature of the 魔族.

0001AD15

Surfeit of Thieves
Two thieves planned robbery of a secluded castle doesn't go to plan when they are forced to become guests for dinner.

0001B01D

The Adabal-a
莫利奥斯' writings from the early 第一纪元.

0001AF94

The Aetherium Wars
A theory detailing the cause of the 锻莫 downfall in Skyrim.

xx

004d5b
The Alduin-Akatosh Dichotomy
Relationship between Alduin and Akatosh.

000ED04B

The Amulet of Kings
Chronicle of the covenant between Akatosh and Alessia.

0001ACE1

The Anticipations DR
A brief overview of the "good" Daedric Princes venerated by the Dunmer people.

xx

02826c
The Apprentice's Assistant
A guidebook for novice spellcasters.

000EDA8F

The Arcturian Heresy
A controversial historical account surrounding Tiber Septim, King Wulfharth and the Underking.

0001B25E

The Armorer's Challenge
An account of a contest between blacksmiths, decided ultimately by the suitability of their products for use in a given environment.

0001AFCE

The Art of War Magic
A guide to the arcane arts of war magic written by Zurin Arctus with commentary from notable mages as well.

0001AFEF

The Axe Man DR
The tale of a Morag Tong assassin and his affinity for axes.

xx

02826d
The Battle of Red Mountain
Vivec's account of the Battle of Red Mountain, addressed to a Dissident Priest.

0002F83C

The Bear of Markarth
An Imperial book concerning 乌弗瑞克·风暴斗篷's role in quelling the Forsworn uprising in The Reach.

0007EB9E

The Beginner's Guide to Homesteading Template:HF
A step-by-step instruction book explaining the process of constructing a house.

xx

015d59
The Betrayed DG
A poem that relates to the 雪精灵' slow regression into the twisted 伐莫. Translated version of Unknown Book, Vol. I.

xx

01a3e5
黑矢,卷一
成为吟游诗人的男仆,高吉克·古恩的故事的第一部分,讲述了他作为沃达女公爵的仆人之前和之后的一些事情。

0001AFC2

黑矢,卷二
成为吟游诗人的男仆,高吉克·古恩的故事的第二部分,讲述了他作为沃达女公爵的仆人之前和之后的一些事情。

0001B009

The Black Arts On Trial
汉尼拔·塔拉文's arguments for and against the study of necromancy in法师公会。

0001B011

魔族之书
关于掌管湮灭位面的魔族们的描述。

0001ACC8

The Book of Fate
A book with empty pages, pages that are said to contain the reader's fate.

00105A52

The Book of Life and Service DG
Obscure writings about the undead inhabitants of the Soul Cairn.

xx

00fac2
The Book of the Dragonborn
A book describing the 龙裔 in history as well as an analysis of the 龙裔预言.

000F86FE

The Buying Game
A book encouraging haggling, and giving guidelines on how the activity is practiced in Elsweyr.

0001B00A

林中小屋
一个写得不好的故事,讲述了士兵在森林中旅行时的困扰。

000EF638

The Cake and the Diamond
Tale of Aelle Chriditte, a Breton Alchemist who outwits a Dunmer and his friends, and absconds with a diamond.

0001B262

The City of Stone
A mercenary's guide to the city of Markarth.

0007EBC2

The Code of Malacath
A book about the Orsimer race.

0007EBC9

The Doors of Oblivion
A book describing the travels of Morian Zenas through the different realms of Oblivion, written by his apprentice, Seif-ij Hidja.

0001AFE7

The Doors of the Spirit DR
Dunmer religious text relating to Ancestor spirits.

xx

028265
The Dowry
Part ten of the Ancient Tales of the Dwemer series.

0001ACF2

The Dragon Break
Describes the dating errors found in Encyclopedia Tamrielica and how this fueled superstitious beliefs surrounding a Dragon Break.

0001AFCA

The Dragon War
A book speaking of the events leading up to the 巨龙战争, and briefly the war itself and the results of the war.

000EDDD5

梦中漫步
描述并解释瓦尔迷纳的神秘炼金术士的书。

0009DE3D

远行记
奥伦维尔德的关于患病的孩子、失望的父母和死灵法术的故事。

0001B016

The Falmer: A Study
A treatise on the degeneration of the 雪精灵 into the 伐莫。

000E0D68

The Firmament
A short text listing and describing the constellations of Aurbis.

0001ACD2

The Firsthold Revolt
A book detailing the events of a large revolution regarding the city of Firsthold.

0001ACD3

The Five Far Stars DR
A volume of verse collected from wise women of the Urshilaku Ashlanders.

xx

028267
The Four Totems of Volskygge
A riddle designed to help open a puzzle door in the ancient ruin Volskygge.

00068B5A

The Gold Ribbon of Merit
A story of two friends reuniting, and a display of great skill in archery as they compete with one another.

0001B005

The Great War
An Imperial Legate's account of the Great War.

000F456D

The Guardian and the Traitor DR
A Skaal legend recounting the fall of the Dragon Priest, Miraak.

xx

03abcd
The Holds of Skyrim
A brief overview of the nine Holds in Skyrim, intended for use by Imperial officers stationed in Skyrim.

000ED030

The Hope of the Redoran
Details the story of a battle between Andas, the Hope of House Redoran, and his cousin Athyn.

0001B26A

The House of Troubles DR
An overview of the Daedric Princes who rebelled against the Tribunal Temple.

xx

028268
The Importance of Where
Part three of the Ancient Tales of the Dwemer series.

0001AFE3

The Knights of the Nine
A chronical surrounding the rise and fall of the Knights of the Nine.

0001AFFA

The Last King of the Ayleids
A chronicle of the fall of the Ayleid Empire during the First Era.

0001ad09

The Legend of Red Eagle
A short biography of Red Eagle, including his uprising in the Reach.

000C1771

The Legendary Sancre Tor
Details historical events that occurred at Sancre Tor.

0001AFE2

The Legendary Scourge
Tells of the legend surrounding Scourge, a mace blessed by Malacath and used to battle against the Daedric Lords.

0001AD0A

The Locked Room
A tale about a girl, an infuriated mentor, a room with no windows or anything except a steel door and a crate, and a vampire stored in the crate.

0001B019

The Lunar Lorkhan
An outline of the creation-myth which theorises that the two moons of Nirn are remnants of Lorkhan's body.

0001AFCD

The Lusty Argonian Maid Vol 1
A sexually-themed play featuring a wealthy man and a beautiful Argonian maid.

0001ACEF

The Lusty Argonian Maid Vol 2
Another scene from the play, but with different sexual themes.

000F699D

边塞领的"疯汉"
帝国对于边塞人和弃誓者历史与动机的简短记叙。

0007EB03

The Madness of Pelagius
A biography of Pelagius Septim III and also a story of his madness.

0001ACF0

The Marksmanship Lesson
A story about a slaver whose son was taught archery by his Bosmer slave.

0001B26D

The Mirror
A story about the best defensive fighter and his greatest opponent.

0001AFDE

The Monomyth
A book containing the known information on the origins of Mundus and its creators, as well as various world creation myths from multiple cultures.

0001B26E

The Night Mother's Truth
A book about the Night Mother's true identity.

000E0D67

The Nightingales Vol. 1
Description of the Nightingales and their role.

000F68AC

The Nightingales Vol. 2
Description of the Nightingales' history.

000F68AD

The Nirnoot Missive
Transcript of a speech encouraging the study and preservation of Nirnroot, and theorizing on the causes of its recent changes in appearance and habitat.

0010BEDF

The Oblivion Crisis
An account of the events during the Oblivion Crisis.

00037DEA

The Old Ways
A text detailing the ways, culture and philosophy of the Psijic Order.

0001AD0F

The Pig Children
A racist overview of the Orsimer.

0001AD11

The Poison Song, Book I DR
Part one of an epic set in the aftermath of the war with the Dwemer and House Dagoth.

xx

02826e
The Poison Song, Book II DR
Part two of an epic set in the aftermath of the war with the Dwemer and House Dagoth.

xx

02826f
The Poison Song, Book III DR
Part three of an epic set in the aftermath of the war with the Dwemer and House Dagoth.

xx

028270
The Poison Song, Book IV DR
Part four of an epic set in the aftermath of the war with the Dwemer and House Dagoth.

xx

028271
The Poison Song, Book V DR
Part five of an epic set in the aftermath of the war with the Dwemer and House Dagoth.

xx

028272
The Poison Song, Book VI DR
Part six of an epic set in the aftermath of the war with the Dwemer and House Dagoth.

xx

028273
The Poison Song, Book VII DR
Part seven of an epic set in the aftermath of the war with the Dwemer and House Dagoth.

xx

028274
The Posting of the Hunt
Describes the events, traditions and rules surrounding The Ritual of the Innocent Quarry, also known as the Wild Hunt. While Hircine is never directly mentioned in this book, it is highly suggested that this book details rituals belonging to his realm of Oblivion.

0001AD12

The Ransom of Zarek
Part one of the Ancient Tales of the Dwemer series.

0001AFD3

The Real Barenziah, Book I
A large text describing a young Symmachus and how the death of his mother occurred. Also describes Barenziah's traumatic childhood, and the story of Straw the Nord.

0001ACD6

The Real Barenziah, Book II
Tells the story of Barenziah's rise and eventual fall while working for the Thieves Guild, and how she was captured by Symmachus. The fates of Straw, Therris and Katisha are revealed here and Barenziah is officially made the Queen of Mournhold.

0001ACD7

The Real Barenziah, Book III
Barenziah arrives in the Imperial City, meeting Tiber Septim himself. The book then details the affair between them, with Barenziah falling pregnant as a result. Tiber Septim orders that an abortion be performed on her, and she is soon sent childless to Mournhold.

0001ACD8

The Real Barenziah, Book IV
Barenziah arrives in Mournhold and eventually marries Symmachus and bears children with him. The book also details the appearance of Drayven Indoril, with whom she has a brief affair with and results in the Staff of Chaos being stolen.

0001ACD9

The Real Barenziah, Book V
Due to strained relations between Morrowind and the Empire, Barenziah travels to the Imperial City to speak with the Emperor, during which she gains an inkling of suspicious towards his true identity, and eventually proof. Her husband is later killed, and she has a liaison with the Nightingale, but soon flees the Imperial City for Wayrest and marries King Eadwyre to live a more peaceful, pleasant life.

0001ACDA

The Rear Guard
Tells the tale of a Bosmer mercenary, Menegur, who single-handedly defended the Cascabel Castle while facing starvation and through great wit, becomes the new count of the castle. Also gives a high level of detail on usage of Netch Leather Armor.

0001B000

The Reclamations DR
A study into the fall of the Tribunal Temple and the reinstatement of the Daedric Princes in Dunmer religion.

xx

03b052
The Red Book of Riddles
A book filled with several riddles.

0001AD13

The Red Kitchen Reader
Describes how not only meal preparation is important for enjoying good food, but also details how experiences, settings and context all play a large role in the enjoyment of food as well.

0001AFD5

The Red Year, Vol I DR
Part one in a series of interviews with survivors of the Red Year.

xx

03b063
The Red Year, Vol II DR
Part two in a series of interviews with survivors of the Red Year.

xx

03b064
The Refugees
A story of people fleeing the Camoran Usurper's conquest; his mistress and son are mentioned in the story as well.

0001B003

The Rise and Fall of the Blades
Detailed historical account of the Blades.

000F4530

The Secrets of Ragnvald
A poem about Ragnvald.

000DB0C7

The Seed
Part two of the Ancient Tales of the Dwemer series.

0001ACFA

裴伦纳尔之歌,卷一
裴伦纳尔之歌系列的第一本,本书向读者介绍了裴伦纳尔Whitestrake。

0001AF8A

裴伦纳尔之歌,卷二
裴伦纳尔之歌系列的第二本,本书描述了艾莱西亚向阿卡托什祈祷以帮助她奋斗。

0001AF8B

裴伦纳尔之歌,卷三
裴伦纳尔之歌系列的第三本,本书描述了裴伦纳尔对Ayleid奴隶主的征服,介绍了Ayleid的"半精灵"冠军,Umaril the Unfeathered。

0001AF8C

裴伦纳尔之歌,卷四
裴伦纳尔之歌系列的第四本,本书描述了赛瑞迪尔人民从Ayleid霸主手下解放。

0001AF8D

裴伦纳尔之歌,卷五
裴伦纳尔之歌系列的第五本,本书描述了裴伦纳尔与Morihaus的关系,另外还描述了Morihaus与艾莱西亚的关系。

0001AF8E

裴伦纳尔之歌,卷六
裴伦纳尔之歌系列的第六本,本书描述了裴伦纳尔Whitestrake的起源。

0001AF8F

裴伦纳尔之歌,卷七
裴伦纳尔之歌系列的第七本,本书描述了裴伦纳尔死于Umaril与精灵诸王之手。

0001AF90

裴伦纳尔之歌,卷八
裴伦纳尔之歌系列的第八本也是最后一本,本书描述了赛瑞迪尔人类的解放,以及裴伦纳尔对艾莱西亚的遗言。

0001AF91

The Sultry Argonian Bard, v1 DG
A book describing the interaction between an Argonian sultry and his mistress.

xx

006925
The Tale of Dro'Zina
An account of a Khajiiti tale as told by a father to his cub while under the influence of Moon Sugar.

000F03E3

The Talos Mistake
An Imperial treatise on the "mistake" of allowing the worship of Talos in the Empire. Heavily slanted toward the view of the Thalmor.

000ED04D

The Third Door
A poem about a jealous and heartbroken, axe-wielding woman called Ellabeth.

0001ACFB

The Third Era Timeline
A timeline of the Third Era.

000ED04F

The Totems of Hircine
A book about the four totems of Hircine.
000F6840
000F683F
The True Nature of Orcs
A look into the culture and origin of the Orsimer race.

0001AD16

The True Noble's Code DR
A guidebook for members of House Redoran.

xx

028275
The Warrior's Charge
An old Redguard poem.

0001AFEB

The Waters of Oblivion
A book describing the origins of Oblivion and the Daedra.

0001AD17

The Wild Elves
An insight into Ayleid culture.

0001AD18

The Windhelm Letters
A collection of letters dating back to the Second Era detailing a wife in Windhelm writings to her husband in Solitude.

000ED03C

The Wispmother
A summary of accounts and legends regarding Wispmothers and Wisps.

00083B3B

狼女王,卷一
有关臭名昭著的独孤城的波特玛女王故事的史诗系列。

0001B01A

狼女王,卷二
波特玛故事的后续。

0001AFF2

狼女王,卷三
波特玛故事的后续。

0001AFFB

狼女王,卷四
波特玛故事的后续。

0001B00B

狼女王,卷五
波特玛故事的后续。

0001B024

狼女王,卷六
波特玛故事的后续。

0001B01E

狼女王,卷七
波特玛故事的后续。

0001B026

狼女王,卷八
波特玛故事的后续。

0001ACFD

伐木工的妻子
一个小屋里孤独家庭的故事。

000ED601

There Be Dragons
A book describing 龙, their presence on Tamriel and their disappearance.

000ED5F8

盗贼
Part two of the fictional tale surrounding the adventures of Eslaf Erol.

0001AFBF

盗亦有道
关于盗贼大师拉维奥斯·特里努斯的短故事。

0001ACDD

Thirsk, a Revised History DR
A chronicle of Thirsk Mead Hall's history and chieftains.

xx

03b3a5
Treatise on Ayleidic Cities
A book describing the construction of Varsa Baalim, and its connection to Mehrunes Razor.

0001ADB4

Three Thieves
A tale of three thieves and an ill-fated heist.

0001B276

Trap DR
A tale describing the chilling fate of a thief.

xx

029102
Trials of St. Alessia
A book describing Akatosh's gift to St. Alessia.

0001ACE2

Troll Slaying
A guidebook describing how to deal with Trolls.

000ED606

Touching the Sky DG
A tale regarding the trials a Snow Elf would face in order to reach The Chantry of Auri-El. Translated version of Unknown Book, Vol. IV.

xx

01a3e8
Twin Secrets
A master enchanter's encounter with a Dragon in Morrowind.

0002F839

Ulfr's Book
An apparently empty book found in front of Ulfr the Blind.

000E1640

奇珍异味
著名美食家所著的食谱书。

0009F267

Uncommon Taste - Signed
A recipe book written and signed by the famous Gourmet.

0006851B

Unknown Book, Vol. I DG
The Betrayed in its original Falmer language.

xx

01a3e0
Unknown Book, Vol. II DG
Journal of Mirtil Angoth in its original Falmer language.

xx

01a3e1
Unknown Book, Vol. III DG
Diary of Faire Agarwen in its original Falmer language.

xx

0ce08b
Unknown Book, Vol. IV DG
Touching the Sky in its original Falmer language.

xx

005d7b
Varieties of Daedra
An analysis of the different varieties of Daedra and Daedric beings.

0001ACFC

Varieties of Faith in the Empire DR
Detailed listing of the pantheons and associated divine spirits of Tamriel's dominant cultures.

xx

028276
Vernaccus and Bourlor
The tale of a Daedra and a hero, and how they were both forgotten.
0001B007
0001B27A
Wabbajack
The utterings of a madman that describes his summoning of Sheogorath.

0001AFBA

Walking the World, Vol XI
A traveler's guide to Solitude in the Fourth Era.

000ED061

War of the First Council
Religious conflict between the secular Dunmer Houses Dwemer and House Dagoth and the orthodox Dunmer Houses Indoril, Redoran, Dres, Hlaalu, and Telvanni.

0001B272

Warrior
Part three of the fictional tale surrounding the adventures of Eslaf Erol.

0001AFE0

Watcher Of Stones
A guide to the standing stones

000ED63F

Where were you when the Dragon Broke? DR
A study in to the Dragon Breaks and their effects.

xx

028266
Whiterun Home Decorating Guide
A guide for decorating one's home in Whiterun.

000F11B6

Withershins
A tale about a man's illness and his cure.

0001B014

Wind and Sand DR
A brief essay about the sands of the Alik'r Desert and their relationship to magic.

xx

01d8d0
Windhelm Home Decorating Guide
A guide for decorating one's home in Windhelm.

000F1446

Words and Philosophy
An interview with Allena Benoch.

0001AFD8

Words of Clan Mother Ahnissi
A Khajiit creation myth.

0001B27D

Words of the Wind DR
A volume of verses collected from Ashlander wise women.

xx

028277
Wraith's Wedding Dowry
The story of an Orc reclaiming her wedding gift from thieves.

0001B273

Yellow Book of Riddles
A collection of humorous riddles.

0001B274

Yngol And The Sea-Ghosts
A tale of Ysgramor's crossing to Skyrim and the events following the death of his son, Yngol.

0002A563
Diaries and journals
编辑
Notes, letters, and documents
编辑
Recipes
编辑
Spell Tomes
编辑
Other types
编辑
Treasure Maps, ten named variants, note form
Master Illusion Text, four variants
Oghma Infinium, skill book allowing the player to choose to increase one of three skill categories.
Power of the Elements, five variants, one being a spell tome, what the Master Illusion Texts are converted to at the end of the Illusion Ritual Spell, only obtainable through console
Various developer testing books, obtainable only through console, disappear when dropped or placed in a container
本章节包含与书(天际)相关的错误。在本列表中添加错误之前,请三思:
请重新加载旧存档以确定此错误依然会发生。
如果错误依然会发生,请根据错误发生的平台,使用对应的系统模板

 360 

 /

 XB1 

 、

 PS3 

 /

 PS4 

 、

 PC 

 /

 MAC 

 、

 NX 

 写下错误报告。
列出错误和修正时详细描述,但请避免在说明中进行对话和/或使用第一人称叙事:论坛板这样的讨论属于适当的。
Using a spell such as Blizzard can glitch out anything in cases including books, armor, weapons, etc. Any high explosive spell should work (needs more testing, Blizzard tested on PS3). Blizzard does not harm non-hostile NPCs making it safe to use in populated areas.
A spell tome can be copied by placing the book on the bookshelf, then exiting out the bookshelf dialog, then quickly clicking the place the book ends up, then reading the book when it is on the shelf, then exiting. After that, every time one activates the book shelf the book will end up there.
Gallus's Encoded Journal may get stuck in the inventory as a quest item. To fix this, get caught and go to jail, break out and when the Dragonborn retrieves their items, do not take the journal.
Template:ALLPLAT Bookshelves in any owned house in Skyrim may be inaccessible despite being full of books. None of the books are selectable despite the titles appearing, and the shelves cannot be opened, either. This happens whenever an attempt is made to place more books on a shelf than will fit. For example, if the caption says 10 of 10 books are on the shelf, trying to place eleventh locks the shelf up and all books become inaccessible.
Any of the Elder Scrolls may get stuck in the inventory as quest items.
See also
编辑